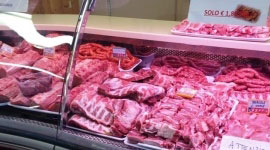 Buy meat Online: The best Italian meat selection.
Buy meat Online, find the best italian meats from Fiorentina to fillet, under vacuum meat delivery in 48h in EU
FoodExplore Butcher online shop, Buy meat online, the best italian meats derived from bovine and pigs butchered in Italy by the best Italian butchers. Taste Florentina from Chianina bovine, ready to cook on barbecue sauseges and Fassona Tartare. The steaks are matured by butchers, cut fresh at the moment of the order, vacuum placed before shipment (where they can last for 20 days without loosing nutritional characteristic) and shipped in special packages with dry ice to maintain the freshness. Taste the real italian meat directly to your home and match them with the best italian red wines from the top italian wineries.
Check out how we ship fresh food
Learn More