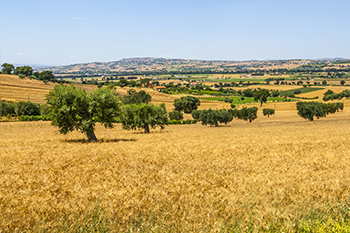 Traditional Marche product
Traditional Marche products: online shop of products from the Marche cuisine.
Marche cuisine is based on agricoltural products whose production and conservation methods have being perfected over time and have been handed down from family to family. One of the main highlights of the region are the Marche cattle breed, that delivers excellent meat and prestigious cuts. In ancient times Marche people were shepherds and they have handed down recipes of traditional Marche dishes and cheese making techniques still in use today. The traditional cheese is the Pecorino di Fossa made with sheep's milk. Many traditional Marche dishes are made with pork meat. Pigs are killed at the end of the year and the meat is worked by hand as in the ancient times. The traditional Marche product par excellence, well-known all over the world are the olive all'ascolana, balls of meat stuffed with one olive, then breaded and fried. The area of Ascoli Piceno is particularly rich in wine, where we can find the Rosso Piceno, Lacrima di Morro d'Alba, Passerina and Verdicchio. Marche is a region in central Italy. It overlooks the Adriatic sea to the east and the Umbrian-Marche Apennins to the west.
Learn More