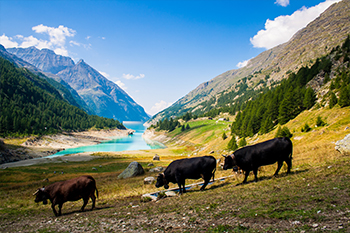 Traditional Valle d'Aosta products
We selected for you the best traditional Valle d'Aosta products.
Valle d'Aosta is the smallest region in Italy, sorrouned by the highest peaks of Europe, which are Mont Blanc, Cervino and Monte Rosa. The region is completely mountainous and gets its name, Valle d'Aosta, from the valley which runs through it. All agricultural production is based in the valley like wine-growing, which produces both white and red Alto Adige DOC. These grapes are from ancient local vine varieties which stand on terraced hills and for this reason very hard to work. The most famous traditional Val d'Aosta product is probably the Fontina Valdostana, a cheese made with the milk of local cattle breeds that graze at an elevation of 2500 asl. This is the main ingredient of the famous traditional Val d'Aosta dish: the fonduta.
Learn More