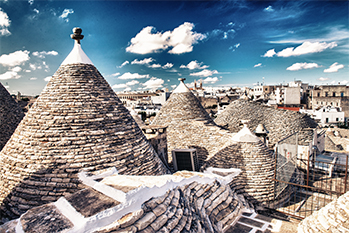 Traditional Apulian products
We selected for you the best traditional Apulian products.
If we think about Puglia it is impossible not to think about the delight of traditional Apulian products and Apulian recipes. Puglia cuisine is characterized by incredibly high-quality ingredients, both from the sea and the land. Vegetables such as turnips, peppers, aubergines and kales are the main ingredients in almost all Apulian recipes; jams and vegetables in oil are delicious and used in the everyday meals. Legumes are also excellent and commonly used, such as turnip's tops, broad beans and beans. The traditional Apulian dish par excellence is the Orecchiette with turnip's tops or with horse ragù. Most of the traditional Apulian products are cheeses: the most important ones are Burrata, Caciocavallo Podolico Pugliese and the Ricotta forte. The gold of Puglia is the olive oil, whose plants are grown in the entire territory: the most common cultivars are Coratina, Ogliorola barese and Cellina di Nardò. Its wines, like Primitivo di Manduria, Negramaro and Nero di Troia, goes perfectly with the traditional Puglia cuisine.
Learn More